With spring break 2023 just around the corner, Inspire Me Latin America is ready to accessorize your tropical vacation. Here are our top picks that not only add a colorful vibe to your travels but also support fair trade and small businesses in Central America. We can't wait to see your vacation photos with these favorites!
Our signature raffia earrings by Merekete are perfect for a day by the pool or the beach. These unique earrings are waterproof, made with up-cycled plastic, and woven to perfection. Ines, the designer behind the brand, is also a teacher at Univeridad Del Istmo. She started Merekete to bring affordable, unique one-of-a-kind designs to women. Merekete's mission is handmade for women by women, as she employs women artisans from Guatemala City to rural communities near Chimaltenango. The materials used to create these accessories inspire the designs. Raffia earrings are available in emerald, orange, white, and pink.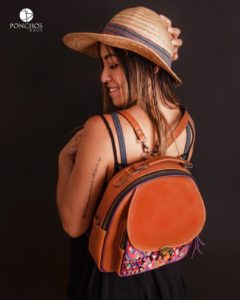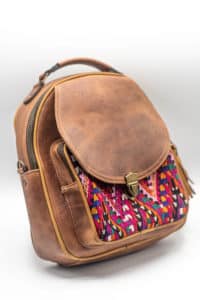 Leather Backpacks by Poncho's Bags
Whether your spring break consists of a day exploring the streets of a big city or a hike up a mountain a mini backpack is a must-have! The Yexalan bag comes in a variety of colors, is made of real leather, and has many compartments for storage. The colorful huipal textiles on each bag pairs well with jeans and a casual top or a bright mini dress. Alfonso, the founder & designer of Poncho's Bags, offers a creative and functional bag made with quality leather and 100% Guatemalan textiles. From his workshop in Panajachel, he works with a team of designers who are committed to the social, economic, and human development of people in their community. These beautiful bags come in a variety of colors and are made with techniques that have been passed down through generations in Alfonso's family. We love this bag as the straps come off and can easily transform into a handbag.
Whether you are spending a day at the coast or an afternoon by the pool, the handwoven kimono is a versatile choice to accessorize your spring break trip! The kimono is light, colorful, and unique. Wear as a coverup for a swimsuit or to dress up a maxi dress. By wearing this kimono, you are supporting Artesanias Chinimaya, a women's cooperative located near San Juan la Laguana. The cooperative is made up of 29 women who make these kimonos from 100% natural cotton, hand-spun, and died using various plants, barks, and flowers for color. The kimonos are then woven on a backstrap loom. Each sale helps support single mothers and their children in the community, which makes this must-have item even more special!
The easiest way to jazz up a simple dress, t-shirt or classic style is to add arm candy! Inspire Me Latin America has a variety of bracelets by designer Mandarina by Dre. Designer Andrea creates unique bracelets from her studio in Guatemala City. All of her pieces are inspired by different aspects of Guatemalan life, culture, and the earth. She works with local artisans by sourcing materials from Antigua and Huehuetenango. The materials she uses range from textiles from traditional women's dress, organic cotton, metal, clay, and beading.
Make your beach and pool photos Instagram-worthy with a colorful, light, and hand-woven beach towel. Morena Collective has made packable beach towels. They are a socially responsible brand committed to preserving Guatemalan heritage through the training, production, awareness and economic growth of artisans. Founder Lesly started the brand during the pandemic after realizing there was a need to support Mayan communities. Morena Collective hopes to change consumer buying patterns by offering fair and direct trade options for artisans and their families.
Inspire Me Latin America is a fair trade company founded in 2018 that supports women and indigenous families who offer handmade fashions and accessories made in Guatemala. We help entrepreneurs do business in the United States for the first time. Your purchase goes directly to the 15 artisans that make quality, unique products under the Inspire Me Latin America brand. Interested in becoming an influencer? Use the contact form to submit your information and we will get back to you with the next steps!!